Oil is king, oil is god, and oil must be prayed to be merciful upon us poor miserable auto drivers. We witness a sign of the times in this SF Chronicle photo by Paul Chinn of Kendall Guy, an Oakland pastor (left), and Rocky Twyman praying for lower gas prices after filling Guy's car.
Praying to higher powers tends to be one alternative employed by humans when dealing with situations beyond their control. Who knows? It may help, although finding inspiration to invent more energy efficient modes of travel may make God and Mother Earth smile upon us.
Recently, I've had two graphic design encounters invloving church and religiously influenced themes. The first was an offer through an IT recruiter to work in Flash on a large website. The work was to be performed on location at the production facility, Golden Era Productions, which is the promotional media arm of the Church of Scientology. Plans leading up to the assignment in remote Hemet, CA including paid room and board were nebulous, and after a few days the offer was withdrawn and I was told by the disappointed recruiter "the project had been put on hold." Perhaps somebody was praying for me, or against me. I'll never know what unique adventure I may have missed.
The second anecdote is a bit more of a hands on experience. A stock photo agency I often work with requested a 3-D rendering to be used for a breast exam publication. The breast image was to have the nipple removed at the request of the client.
In professional visual design you learn that revisions are a part of the job, so after submitting the first image (below left), I was advised to try and cover over as much of both breasts as possible by crossing one arm over them (below right). The client turned out to be a religious institution, and perhaps too much 3-D simulated, de-nippled breast could be fertile ground for Satan's tempatation. Approaching breast examinations in the church is a delicate undertaking.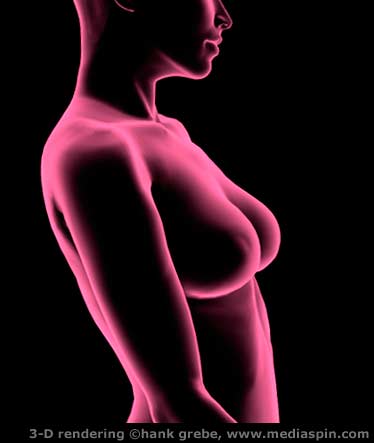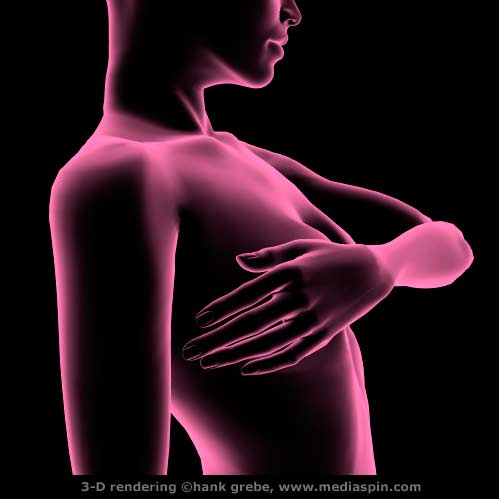 Version 2 and further revisions were still found to be too revealing for the client. (How do you show a breast exam without showing breasts?) So that my efforts were not a total loss, I decided to innovate, and insert a cross to aid in concealing the terrible breasts. In this version (below), I employed the cross style used by the Scientologists, perhaps giving this image some kind of blessed double whammy.