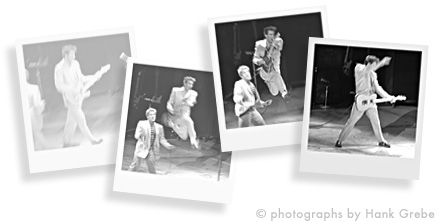 Remember that Memento guy who couldn't remember anything, so he took Polaroids of himself? Polaroid was once on the cutting edge, but instant digital photography antiqued the photo-chemical process into an Industrial Era memento.
Meet the new boss. In March 2003, Polariod appointed Michael Pocock as president and CEO. In August 2003, Polaroid declared bankruptcy.
Same as the old boss. Two years later, Polaroid's remnants are being sold off, and Pocock gets $8.5 million!
More than 4,000 Polaroid retirees last month received a check for $47 – a one-time payment from a trust fund to compensate retirees for legal expenses.
"It's such a shame, because we got killed," said Peter Bass, a 72-year-old Lexington resident who retired 13 years ago after 35 years at Polaroid. Bass used his $47 to take his wife out for pizza and will very likely need to come out of retirement to make ends meet.
For more details, listen to the Marketplace radio story.
So, don't get fooled again. We hear lofty speeches from Presidents and CEOs about values and ethics, and those are mighty fine words. Show me the secret CEO handshake! Unless you can be the boss, the president, the CEO, or a guy who gets a lot of money and stock, why bother taking the chance of being fooled again?
P.S. Comic relief Social Security toon.