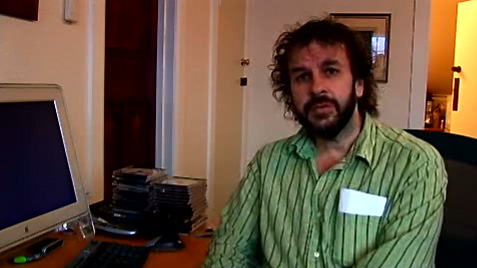 KING KONG, currently in production in New Zealand under the direction of Peter Jackson should provide many interesting and unavoidable parallels with the original 1933 movie. The 1976 King Kong remake missed the popular opinion mark dramatically and technically (I suppose, since I haven't seen it), so the stakes are even higher for Jackson to make a new and improved KING KONG.
Peter Jackson has embraced the Internet community, and is steadily recording a video production diary and publishing it to the web. See Peter Jackson's KING KONG Production Diaries. Jackson understands these real events will never occur again and the video diary rolls even during the last week of filming when Jackson is nearly exhausted. This is a wonderful gift to movie fans that Jackson copes with the logistics of dealing with the pressures of high stakes film making, and takes time for this video chronicle. Perhaps techniques and processes that Jackson and his crew developed on the Lord of the Rings trilogy have enabled them to confidently produce great movie footage at an incredible pace.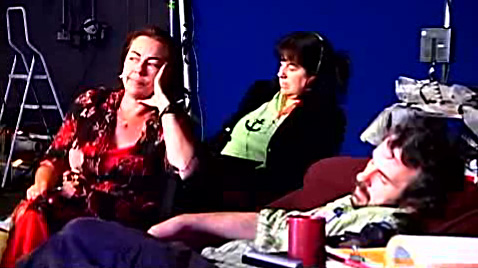 Jackson has faithfully recorded these clips since day one of the shooting of KING KONG starting on September 7, 2004 in New Zealand. At the start of the production diaries Peter looks slimmed down since appearing at the 2004 Oscar Awards, and in the shots from April 2005 almost looks a bit hagggard. These are must see videos for those who a) cannot wait to see King Kong, b) desire to witness behind the scenes state of the art movie making, in some ways unscripted. Over the course of shooting and now post production many minutes of video have accumulated and most likely it will not be seen elsewhere until a Special Extended DVD Edition is released.
Jackson's been quoted that KING KONG has been just as difficult or more so than the making of The Lord of the Rings trilogy, and he recently announced plans with Universal to work on two sequels, Kongs 2 and 3, "Son Of Kong" and "King Kong: Into The Wolf's Lair". Pre viz and production work has already begun on Kong 2 which climaxes with the big gorilla in Germany fighting the Nazis and an army of their mutated experimental beasts. Perhaps Jackson has no time for dining, since this aggressive schedule is for King Kong: Dec. 2005, Kong 2: June 2006 and Kong 3: Dec. 2006!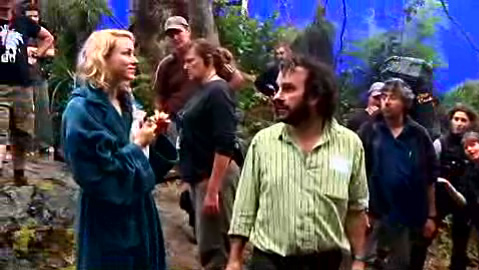 QuickTime clip, Post Production Diary 33 Weeks to Go. The start of post production, covers tools and techniques used in the post production departments: Editorial, Weta Digital, Weta Workshop, Miniature Unit, Motion Capture, Sound and Color Timing.
QuickTime clip 32 Weeks To Go features Alex Funke, Director of VFX Photography discussing the 3 versions of the ship "Venture": full size, 1/12 scale miniature, and a "tiny little one" for extreme long shots, plus the full upper deck built at Stone Street Studios. The craftsmanship and detailing on the 12th scale model is discussed, regarding the practicality of its use in shots involving storms, huge waves and extreme danger. So, in many ways the art of miniature building and cinematography is a craft that has enjoyed a slow and steady evolution over the past 100 years, and not been replaced the in way stop motion animated characters have been replaced o a great degree since Jurassic Park's dinosaurs. Funke and Richard Taylor go over the detailed painting and functional lights on board the miniature ship, which allow them to get away with shooting separate takes with a a motion controlled camera against blue screen, so that they can adjust the level of the lights as a separate layer in post production.
QuickTime clip 31 Weeks To Go. An excellent behind the scenes clip of Andy Serkis, (previously performed as Gollum) performing with the motion capture process on the studio set of KING KONG. The mo-cop system is setup to provide Andy with feedback of how his acting will be translated into an ape proportioned body. Reviewing his takes on the set, Andy is able to go for another take in the motion capture suit. Lisa Wilermoth, 1st AD Motion Capture states that the motion capture in KONG is 10 times harder than Gollum, with full facial and body mocap. Motion capture shots will progress into Auguest, perhaps last minute shots shot in October.
From http://www.killermovies.com/k/kingkong/articles/4980.html:
On March 7, 2005, Peter Jackson invited 200 people to give them a sneak peek at footage of King Kong, according to Variety. Jackson is "paranoid about anyone taking photos," says one attendee, whose gag slipped momentarily. Jackson screened 18 minutes of footage of the $160 million remake, showing off his Weta digital workshop and lavish sound mixing facility. Displaying some of the miniatures, he explained how he told his tech crew the miniature forest had to show the effect of wind rippling the branches and leaves as the big ape lumbers through it — apparently a feat never pulled off before. The director admitted to nerves as he introduced the footage, noting it hadn't been seen by anyone outside his team. But reactions were uniformly bullish, from what Variety could glean. "Fantastic. I haven't felt like that since I saw Jurassic Park, " one attendee said.