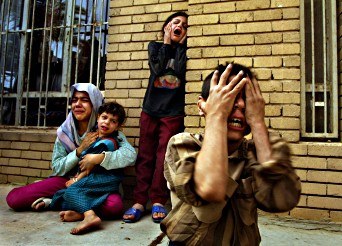 Photo by Carolyn Cole, Los Angeles Times, Newspaper Photographer of the Year 2004.
Working above and beyond the political posturing, opinions, rhetoric and editorials, many photojournalists risk their lives to shed a little light on some very dark places. Photojournalism is raw photography on the jagged edge of survival. Red hot as in risk-your-life endangerment, not Frederick's of Hollywood hot. No photo retouched beautification allowed in Iraq, Liberia, The West Bank, Afghanistan or Guantanamo Bay. Witness the true stories at The Best of Photojournalism 2004.
"When any country says it's going to go to war, these are the kinds of things that we can expect," reflects photojournalist Chris Hondros as he narrates The Orphans of Tall Afar on the tragic events he witnessed and photographed. During a routine night patrol through the streets of Tall Afar, Iraq, as is customary after curfew U.S. soldiers ordered a car to stop. When the car failed to slow down, soldiers fired directly into the front seats. After the shooting was over, in the back seat were six crying children instantly orphaned.