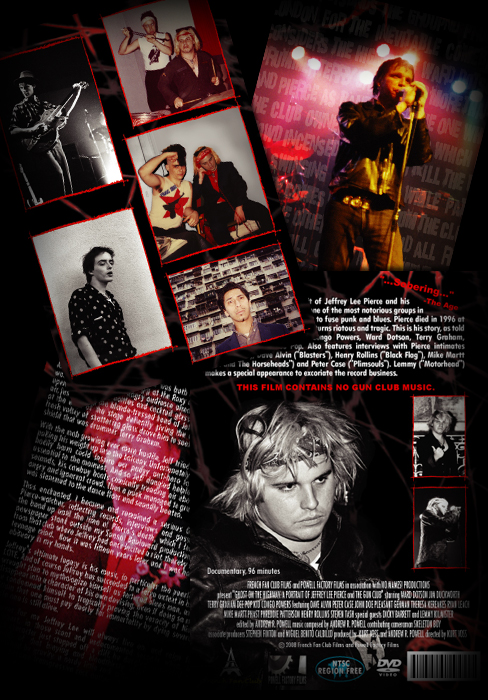 Ghost on the Highway: A Portrait of Jeffrey Lee Pierce and the Gun Club is out on DVD.
For me, viewing the DVD was a highly entertaining experience on many levels. Before his show at Merlyns Club in Madison, WI, Jeffrey was sitting quietly at a table. I asked if I could take a few photos. At the time I was at the top of my Tri-X shooting and lab processing game, and the resulting shots are still stunning to this day (see photo below with links to more from that date). Only after watching this excellent documentary by Andrew R. Powell and Kurt Voss did I make the connection, that Jeffrey was a huge Marlon Brando fan. Hence the intense brooding captured in this photo (part of collage left), complete with the leather jacket.
The DVD features many interviews with ex Gun Club band members Kid Congo Powers, Ward Dotson, Terry Graham, Jim Duckworth and Dee Pop, as well as close friends John Doe, Dave Alvin, Henry Rollins, Mike Martt and Peter Case that render a fascinating portrait of the complex personality of Jeffrey Lee Pierce.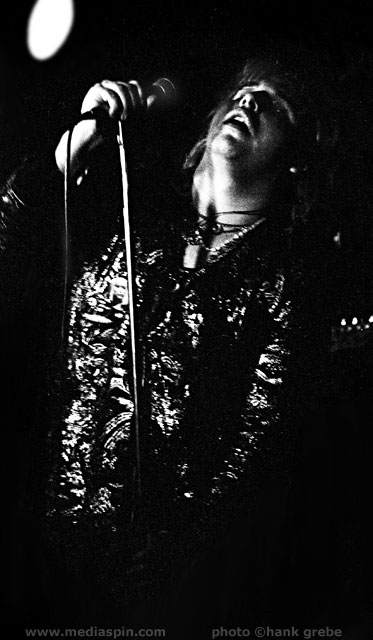 On another level it was fun to watch the DVD and see where Powell and Voss chose to weave my photos of Pierce into the narrative. The filmmakers effectively resurrected one of the murkier, yet dramatic, photos of the batch (right) to describe Jeffrey's collapse into alcohol abuse.
In the end, it is the intense recollections by those who knew Pierce that makes this a fascinating character study and interesting addition to the legends of modern pop, rock and punk music history. I was not a big fan and did not know much about Pierce, and I am grateful to the filmmakers to learn much more about the intense brooding character whose image I captured back then.
You can read more about the DVD and see video clips of the trailer at GhostontheHighway.com.