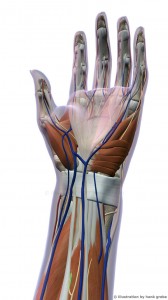 I sprained my wrist trying an advanced yoga pose.  Imagine being in a shoulder stand and lowering your legs down while propping up your arching waist with your hands.  If done slowly, carefully and with enough flexibility, your feet touch the ground as your hands support your lower back in a sort of shoulder stand back bend.  I was able to do it, when I last tried it ten years ago, but I lost some flexibility, and the bending put a strain on my wrist.  So I decided to explore the anatomy of the hand in a series of recent illustrations.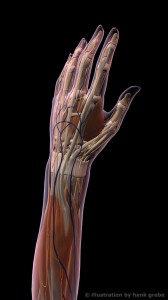 I rendered these Zygote models in Maya in a variety of lighting and camera positions.  The detail is an anatomically correct female hand and wrist.  The fianl renders were 8K in the longest dimension.
I had another concept, "Breaking out of the Box", an inspirational illustration of a struggle for freedom.  The figure was done in Poser, imported into Maya, where I added the lighting, surface texture, and added dynamic cloth to the cube faces that are being stretched.  The skeletal Facebook "like" sign, is just having some fun with Poser, which for me is always fast and simple for working out ideas with.
By the way, the wrist is fine now, but I'm not trying to do that advanced yoga pose again, for awhile now.