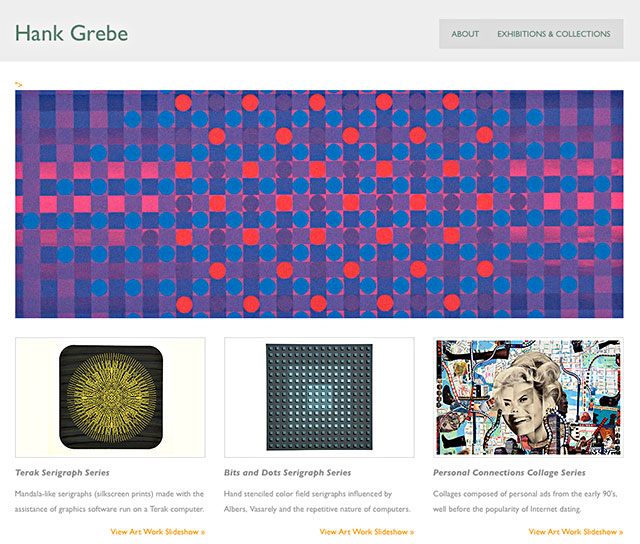 I've been wanting to build a new website that is a fresh start, clear of legacy clutter.  HankGrebe.com focuses on my fine art endeavors, displayed in large slideshows without distracting advertisements, clean of distracting web noise.
Online now are three slideshows and all are series of works that are solid, cohesive statements.  Two groups are serigraphs done during a time of intense silkscreen printing activity in an excellent facility at the University of Wisconsin-Madison, The Terak Series and The Bits and Dots Series.  These images were influenced by my first explorations into learning computer graphics and programming.  They are cool, sedate, sort of my idea of modern "office art."  Now more than ever, I feel these would look fantastic in office walls and hallways.
The third group is more like my paintings and illustrations, containing more message, emotion, humor and shock.  The Personal Connections Collage Series was done in a burst of creativity in the early 90's.  Many of the collages contain clippings from personal ads, which may be a thing of the past, replaced by online dating websites.
I am interested in speaking with a gallery who would like to help present this work properly to the public.